Opera Philadelphia Presents U.S. Debut of Robert Carsen's Classic Staging of Britten's A Midsummer Night's Dream (Feb 8–17)
| | |
| --- | --- |
| Source: Opera Philadelphia | 29/01/2019 |
A Midsummer Night's Dream

opens Friday, February 8 for four performances only!

Opera Philadelphia follows the success of O18, the second edition of its season-launching festival, with four performances of Benjamin Britten's A Midsummer Night's Dream led by Music Director Corrado Rovaris at the historic Academy of Music (Feb 8–17). Starring the dream team of Tim Mead, Anna Christy, and Game of Thrones alum Miltos Yerolemou, all making company debuts, the production marks the long-awaited first American presentation of Robert Carsen's classic staging of the opera, which has been touring the world for more than a quarter of a century. As The Guardian notes, "A Midsummer Night's Dream is one of Britten's most durable operatic achievements, and this production shows why."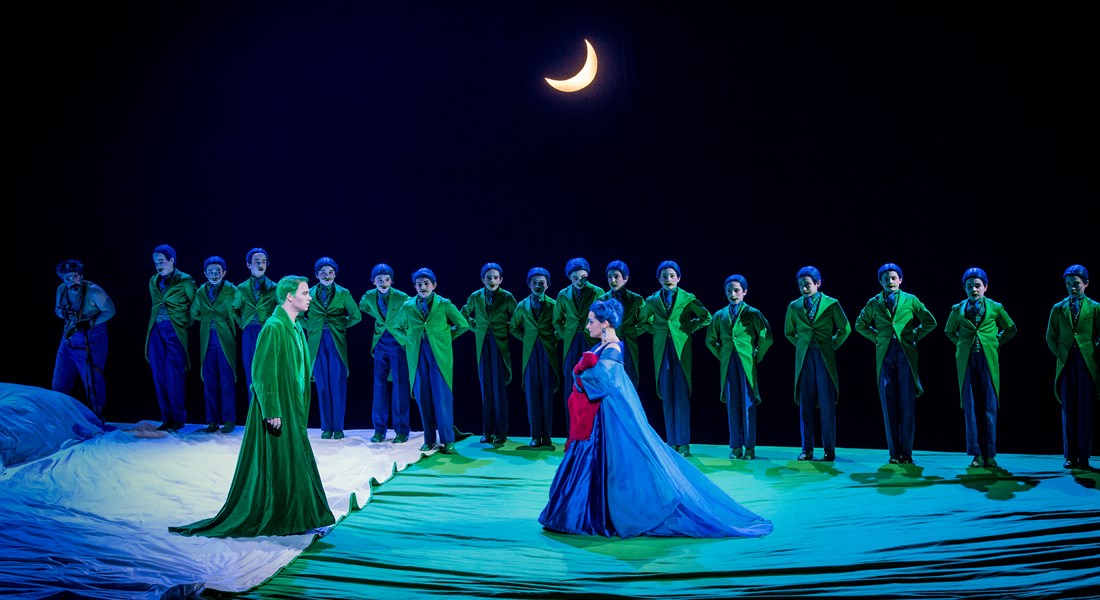 Leading the cast, British countertenor Tim Mead reprises the "seductive and commanding" (The Guardian) portrayal of Oberon with which he wowed audiences at Glyndebourne. Opposite him, American soprano Anna Christy, whose "radiantly sung" Tytania at Lyric Opera of Chicago showed her to be "completely at home in the ethereal stratosphere of Britten's coloratura writing" (Chicago Tribune), revisits her interpretation of the fairy queen. Best-known as Syrio Forel in HBO TV's Game of Thrones, English actor Miltos Yerolemou makes for "a Puck like no other you have ever seen, … who keeps on messing up and stealing the show" (Telegraph, UK); as Bachtrack reported, after seeing him play the mischievous sprite in Aix-en-Provence,
"As Puck, Miltos Yerolemou has it all: a scorching twinkle in his eye, the richest of speaking voices and fearless tumbling skills as befit his background at the Jacques Lecoq School. He's been Carsen's Puck of choice since 2008 and he's the best yet."
Grammy Award-winning bass Matthew Rose – styled the "top of the Bottoms" by The Times of London for his "funny and touchingly endearing" performance (The Guardian) – reprises the role with which he won the John Christie Award at Glyndebourne.
As Lysander, Grammy Award-winning tenor Brenton Ryan sings opposite "sensational" soprano Georgia Jarman (Financial Times) in her house debut as Helena. Rounding out the quartet of lovers are German-American mezzo-soprano Siena Licht Miller as Hermia and American baritone Johnathan McCullough as Demetrius. As members of Opera Philadelphia's Emerging Artists Program last year, their "characterizations manifested themselves vocally with great depth" (The Philadelphia Inquirer) in the leading roles of Doctor Atomic.
The revival will be directed by Emmanuelle Bastet, Carsen's collaborator for the past two decades. As in Europe, the production features Michael Levine's original set and costume design with lighting by Robert Carsen and Peter Van Praet and the choreography of Matthew Bourne.